Season 2014
Hides from the 2014 season with Clyde, Baby, Ox, Mischief, Tater, and Dice
Season 2013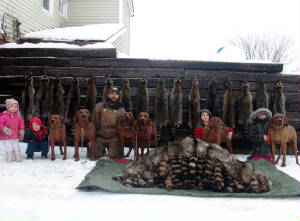 Coon hides and Dice, Ox, Sunni, Cherry, Clyde, & Tater
Season 2012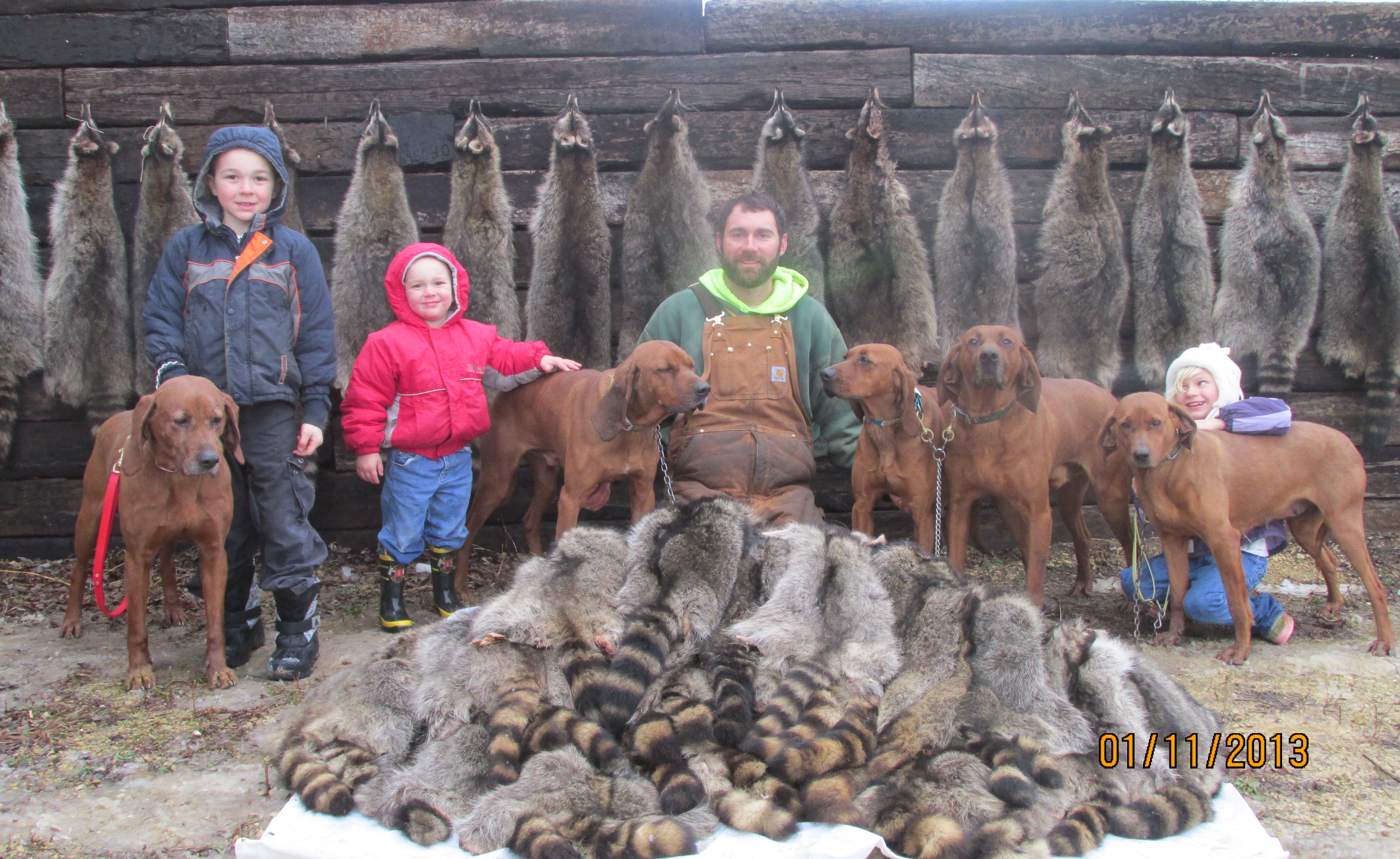 Hides from the 2012 season
Season 2011
Coon hides with Foxxy, Rattle, Ox, Sunni, & Clyde
Season 2011
Father & Son: Quad Grand Ox and NITECH GRCH Clyde with coon
Season 2010
Aubrey, mules, Clyde, Rip, Ox,
Season 2010
Matt & Nate Schultz, Dice, Georgia, and Chief
2009 Season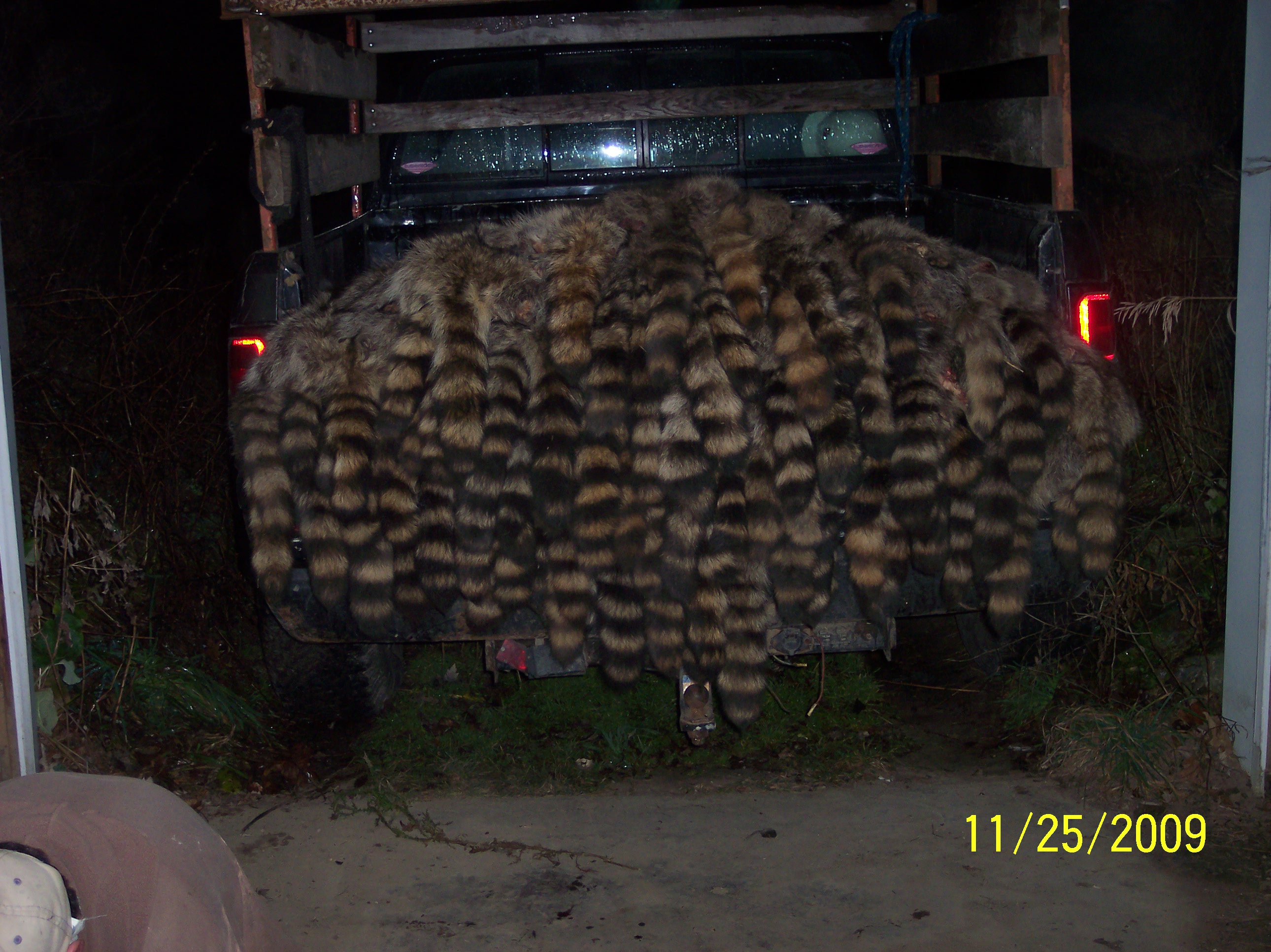 Some of the 2009 Season Coon
Season 2008
Clyde, Boo, Star, Aubrey, Bonnie, Rip and some of their 2008 Coon
This is what it is all about. A lot of hunters today are competition hunters first, and they keep the dogs in shape in the "off season" by hide hunting. We are hide hunters first, and we competition hunt our dogs in the "off season!" If you would like to hunt with our dogs give us a call, we will take you out with them anytime.
2009 Season
Clyde, Dice, Ox, Foxxy, and Star and some of the 2009 Season coon
Season 2010
Matt & Nate Shultz, Dice, Georgia, and Chief season 2010
Season 2009
Jacob & Rambler and Aubrey, Ox, and Foxxy with their 7 coon
Season 2009
Kenny Deal & Reb, Aubrey & Ox, Marvin & Abram, Scott, Tater, & JJ
Season 2009
Aubrey, Marvin Webster, Marvin's pup Joe, Clyde and Star
Season 2009
Ox, Foxxy and 6 coon
Season 2008
Some coon from the 2008 Season and from left to right; Clyde, Ox, Moon, Dice, and Foxxy
Season 2008
Billy & Foxxy and Aubrey & Ox, and their 7 coon 2/9/09
Season Open 2008
Clovis, Chad Theis, Maverick, Aubrey, Clyde, Ox, Star, and Rusty opening night
Aubrey, Clyde, and 7 month old Clyde pup, Dice, and 5 coon 12/13/08
Season 2008
Billy Kellogg, Clyde, Aubrey, Star, mules and 7 coon after a good night in November 2008
Season 2008
Aubrey, Clyde, Bonnie, Star, Boo, Rip and some of the coon from Season 2008
A big 33 lb Wisconsin coon.....covering a bag of dog food
Carl Gudgeon, Foxxy, Aubrey, and Clyde 10/31/08
Season 2008
Carl Gudgeon, Foxxy, Brandon Gudgeon, Clyde, Aubrey, and Ox