11/12/17: Sunni whelped this morning. Six big, slick pups. Momma and babies are doing well so far.
Tater x Sunni pups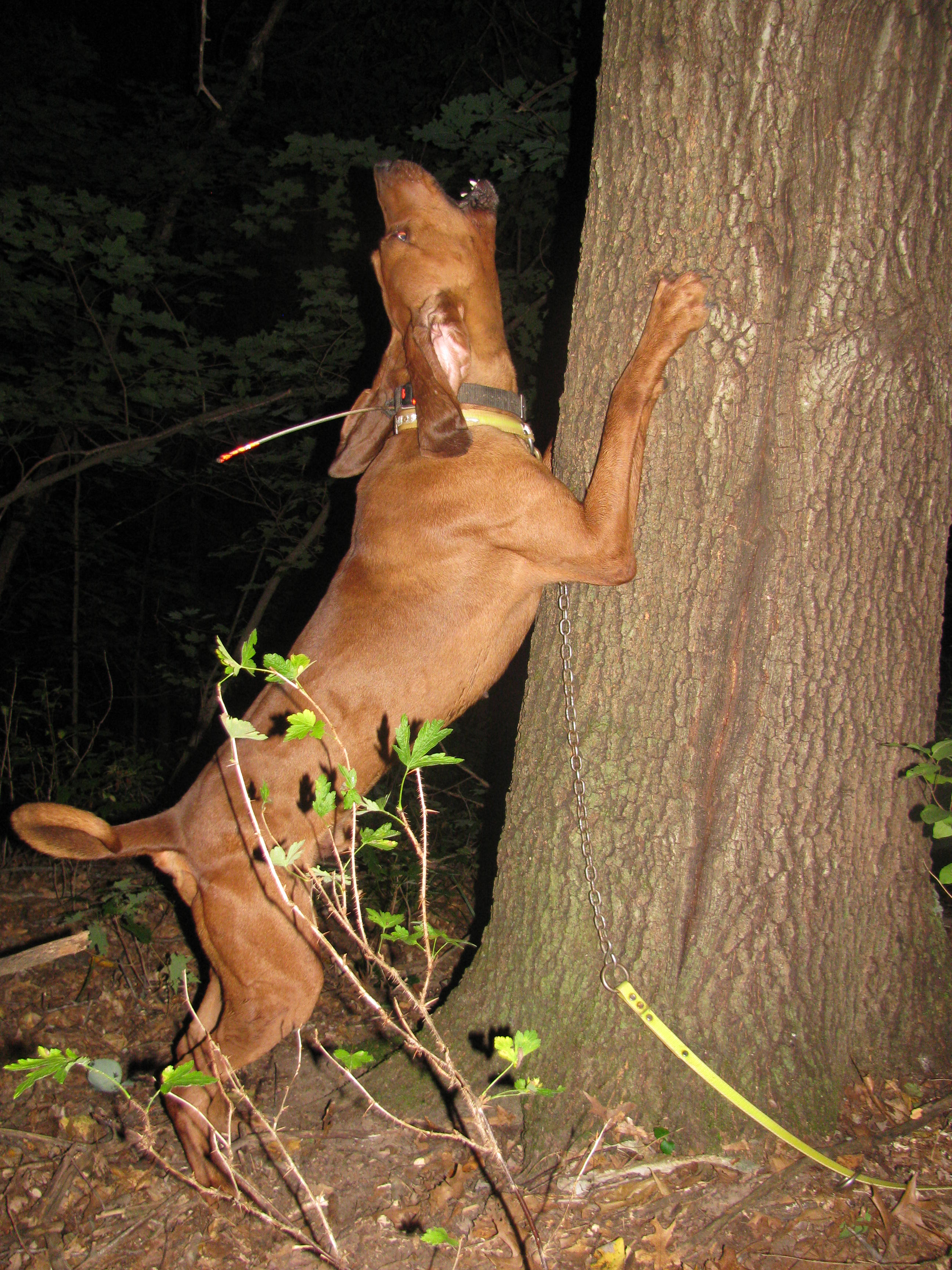 GRNITECH GRFCH GRCH PR RED RYDERS RED FEVER TATER
NITECH GRFCH WCH GRCH PR Red Fever Ain't Going Down "Sunni"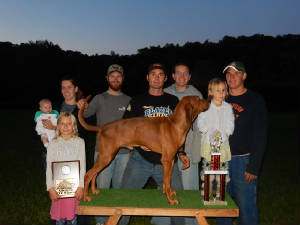 Tater - King of Show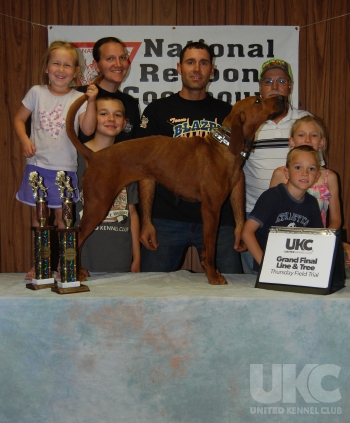 NITECH GRFCH WCH GRCH PR Red Fever Ain't Going Down "Sunni"
GRNITECH GRFCH GRCH PR Red Ryders Red Fever Tater


NITECH GRFCH WCH GRCH PR Red Fever Ain't Going Down

DOB: 11/12/17
This is a neat cross, and has been one we've planned for awhile now, but just getting around to making it happen.....time sure does slip away from us! This cross is pretty heavily bred on the old Timber Jack dog, and obviously has a bunch of Henning's Chief in there too. Both great reproducers, when bred with the right traits and right dogs, produces top dogs very consistently. We can see that in our own program, and a lot of the "old timers" will tell you the same.

Tater was a super natural, easy starting dog. He started running and treeing with the old dogs at 5 months old, and was split treeing at 6 months old to the day (there was a 3 dog split, all 3 had a coon, and he held his tree). He can run a hot or cold track really well, hunts hard, gets as deep as he needs to, and was always super competitive in competition and almost always came back with some pretty nice scores. He runs track with a big bawl mouth, has an easy to call die-bawl locate, and is an intense chop on the tree, treedog. He was the 2013 American Redbone Days Overall Hunt winner. He is a Grand Nite Champion, Grand Field Champion, and Grand Show Champion. He is a leggy dog, tight feet, big block head, and real long houndy ears. Tater is throwing some real nice pups that start early and are all natural.

Sunni is a Quad Champion daughter off of our Quad Grand male, Ox. Her mother, Shiloh, was some guy's pleasure hound, tied out behind the barn so to speak, but she was a straight up coondog, and has some great old breeding behind her. She is double Timber Shock bred.....you will find VERY few, if any females around that can boast that. Sunni's sire, Ox, is the only living Quad Grand Redbone male, #6 on the current UKC Top Reproducers List, and her grandsire, our Two Worlds Collide male, was #1 on the Reproducers List until he became sterile. Sunni herself was also an early/easy starter. Ran and treed her second night to the woods at 10 months old, and was split treeing very shortly after. She runs with a bawl/chop on track, triple chop locate, and is a good hard treedog. She is a NITECH with wins toward Grand, Grand Field Champion, Water Champion with wins toward Grand, and a Grand Show Champion. She is about a 55 lb dog, and built really well. Aubrey always has a dog or three that need to be put in the hunts, but Quad Grand is highly likely for this girl.

Puppies were whelped on 11/12/17. The litter will be UKC Performance Nominated. Please email redfeverranch@yahoo.com or call 608-732-1383 (leave message if no answer and we'll get back to you). Thanks.